As we grow closer to the long-awaited premiere of our favourite show, it is expected for conspiracy theories to crop up. But we are here to mop up most of these and lock on to the most relevant ones and bust popular nonrobust rumours and establish that 'little Will' is just a little prick.
Before the season aired, as stranger things were unsuccessful in killing any main characters, fans speculated this season might do the bidding. Which most likely can be true if not for the uncertain scene around Hopper's death, we would not be in such a mess. I mean, why not kill Will instead of going after the neck of our favourite detective. Let's face it, if not for Hopper, these kids wouldn't have the chance of making it so far, so if he's really dead, things are about to get really ugly.
Fate Of Jim Hopper
So here some things to bring into perspective if we are to take on the role of Detective Cooper. Season 4 has officially started filming, and guess whose car has reportedly been spotted by fans on Reddit? That's right: Chief Hopper's.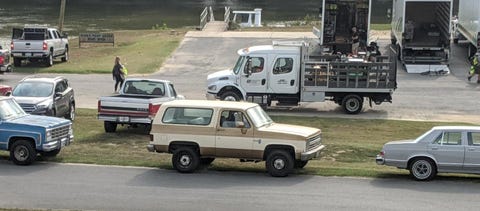 Duffer Brothers did brilliantly by teasing a snippet shot inside Russian prison where a guard after walking to it utters "Not the American" That facility is where he died though so I understand why the fans all excited.
It's also interestingly convenient that Eleven's powers stop working toward the end-credits, which makes up for her lack in finding Hopper by using her super senses. It does make it seem that Duffers are trying extremely hard to cover up his death, but then tease it in the same episode.
Him disappearing into thin air could be he got burned by the Russian electrical machinery or got teleported in the world of Demagorge according to the 3 seconds in which electricity flared up, but he ducked somewhere in the left and disappeared
Considering they teased the American guy in prison, we should be debating more about who he is because it's definitely not Hopper. They wouldn't just tease him at the prison to bring the most comical obvious way to bring him back.
Most theories suggest he might be trapped in the upside-down world because he got teleported there which doesn't make sense because the machinery's purpose is entirely something else
Duffers Brother likes to say "nothing can be said" and suggested he is dead in a rather jokingly way, but we see them trying. Well, that's it for Hopper's case.
And as for Eleven. I'm really sorry about her death. The show won't be the same without her. But I hear there's another Psychologically gifted ward in Russia.