Since the beginning of the reign of Queen Elizabeth II, most excited enthusiasts are patiently waiting for Princess Diane's appearance.
The wait is over. The Crown has finally found its Princess Di, and she's smoking. The regal Netflix series announced last year that actress Emma Corrin's been cast for the highly-anticipated role of Lady Diana Spencer. She is coming to make her debut in the fourth season.
The young actress has been hooked to the series since it was debuted in 2016. This would officially be her first central role on television.
In a press release, Corrin said, "Princess Diana has been an icon for her, and her effect on the world remains profound and inspiring. To be given a chance to explore her through Peter Morgan's writing is the most exceptional opportunity, and I will strive to do her justice." Her way of delivering her intent is proof she's going to be the perfect match for the role inside out.
First shoots of the set are out, and Corrin merely looks stunning.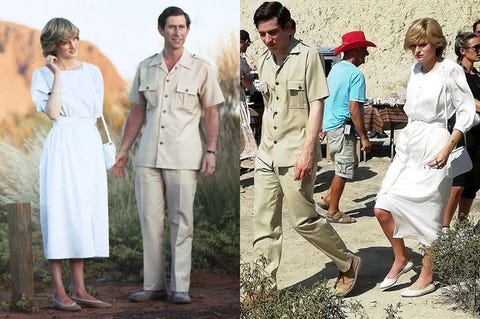 It's interesting because I thought the actress to surface as a teenager firstly. And we can watch a lovely little Di grow up. The star regularly posts on her Instagram and twitter page almost on a daily basis, describing her experience on the set as surreal. The actress boasts her plain white dress Diana wore to Ayers Rock in Australia in 1983. The royal Taxi driver next to her is probably Prince Charles
Personal Life and Development
The English actress is 23 years old, hailing from the town of Tunbridge Wells in Kent. Before this, she's done three small roles, none of this magnitude.
At the time when the script was still in works, the artist only had sixty followers on Instagram. Now it's a growing number, pretty soon Princess Diane is going to take over all of England, possibly Europe too. Don't believe me? Google Emma and she's the first result that crops up, already leaving behind Emma Stone and Watson – two massive names in the industry.
When Will The Season 4 Be Aired?
The official release date hasn't been put out yet. Though it is safe to say, this season is going to premiere somewhen this year because we already got a few pics and snippets from the set to know they're spinning it. Hang on the thread as your life depended on it because this is going to be the most kick-ass season to see Diana ascended to the Crown.