It's been two years when the original romantic movie 'The Kissing Booth' arrived on Netflix. After its success, Netflix ordered a sequel for it, and now it is coming very soon. Everyone was eagerly waiting for the release of the second movie, and here's good news for them, the wait is over. Recently Netflix has revealed the premiere date of The Kissing Booth 2. Here's what you should know about The Kissing Booth 2:
Release Date Of The Kissing Booth 2?
The filming for the sequel was already completed back in October 2019. After waiting for more than a year, now the sequel of Kissing Booth is finally arriving on Netflix. The sequel is just two months away from us. The Kissing Booth 2 is scheduled to release on Netflix on July 24.
Everyone was expecting it to release around May 2020, but now we have to wait a bit longer for it.
Joey King Made The Announcement For Release Of The Kissing Booth 2
The star Joey King revealed the release date of the sequel on Thursday while doing a live session on YouTube. Other fellow cast members also participated in it in which they reveal other things about. Here's the special YouTube live video in which star Joey King made the announcement, have a look:
First Look Of The Kissing Booth 2
During the live session, King also shared an official poster for the sequel of the Kissing booth in which we can see main lead stars. Have a look: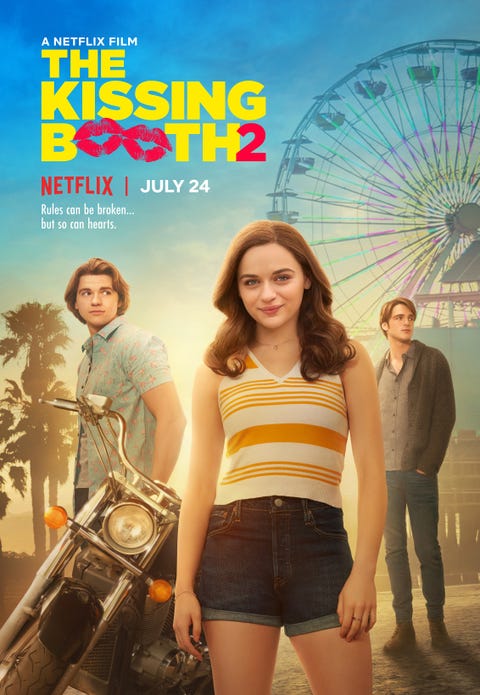 Other Details For The Kissing Booth 2
The 2018 Kissing Booth that features the romantic story of teenagers was very successful. It is influenced by Beth Reekles' book of the same name. Even Ted Sarandos who is Netflix's content boss said that it was 'one of the most-viewed film in the country, and maybe in the world.'
The sequel will follow the incidents of the original movie, and it is also reportedly inspired by the other book of Reekles. In the third movie, we will see Noah Flynn going to Harvard, and Elle to high school for her older year.
The couple will be in a long-distance relationship and also going into her dream college with Lee. Noah will get close with a college girl (Maisie Richardson). In the end, Elle will have to determine how much she trusts him and to whom her heart remains.