Megan Fox's marriage to Brian Austin Green came to an end after ten years, which was confirmed by Brian himself on his podcast.
This was a shock for their fans who share three children.
Megan Fox And Machine Gun Spending Quarantine Together For Their Children
The now ex-couple are spending time together parenting their children, who need both their mother and father to be with them. However, Megan soon found love again in Machine Gun Kelly and are dating since the last few months.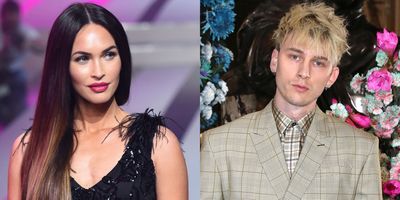 Their relationship is all going right, as the two have been sharing their pictures on the social media handles as well. However, it now seems that the couple has taken the next step in their relationship as reportedly, Megan has let Kelly meet her three children.
Megan Fox Has Allowed Machine Gun To Meet Children
Of course, their relationship has just begun, and neither of them is focussing on having kids or marriage, but Megan let Kelly met her kids. It would have been done before, but she told that her ex-husband Brian is very protective of their children.
Kelly also has a child with her former girlfriend, but it is not out yet whether Megan has met his child or not. This shows that the couple is earnest about their relationship and want that the children also know about it well in time to adapt the same quickly.
Though they are very young not to understand such stuff, after all, both their parents are together with them.
Where Did Kelly And Megan Met?
Kelly and Megan met on the sets of the film where they were co-stars, and after then, they started dating each other, and Kelly is all in awe of Megan. Right now, both of them are just involved in each other and focus on their children and respective careers with no intention to move ahead in terms of settling down together.
There's time for it, and we would love to see them getting officially saying I Do to each other, but there's time for that. So until then, we wish them a good future together.